Lock Community Doors and Gates (script) by Nona Mena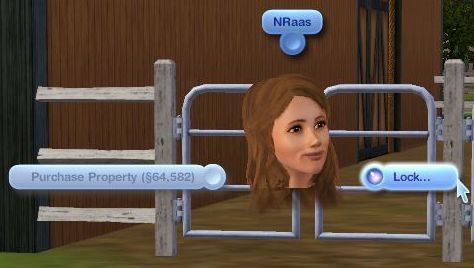 Ever send your sims on a fabulous honey moon, only to be constantly interrupted by nosy relatives and neighbors? Would you like to keep your horses from roaming around the Equestrian Training Center without supervision? This script mod will allow you to lock doors and gates on community lots.

This mod is compatible with patches 1.66 - 1.67.



16 September 2013

- Updated to V6.
Using the UnlockCommunityDoors command will no longer unlock doors on tomb lots.

Using this command will instantly unlock all doors and gates on community lots (except those on tomb lots).
To use this command: 1. hit control+shift+c and 2. Type the following into the box and then hit enter: UnlockCommunityDoors

Requirements:
Built with patch 1.57, but may also work with patch 1.55. This is untested.

Conflicts:
This is a script mod and has little chance of conflicting with any other script, core, or tuning mod. However, this script mod will conflict with any other script mod that replaces the Lock interaction on doors.



Potential "Conflict":

TS3 Apartment mod by ani_
Although using my mod and Ani's TS3 Apartment mod together should not cause crashes or errors, it is possible that ani's mod will not work 100% correctly with this mod installed. Ani must save the lock data when switching active households, and it might be that she will not be able to do this with this mod installed. It means your locks may not stick when switching active households with ani's mod.



Keep in mind:



Be careful what you lock! You don't want to end up locking your inactives out of everything (or maybe you do?).
Please report any issues you come across with this mod.
Many thanks to Peter and Inge, for being my anchor when I feel lost in a sea of coding.


DOWNLOAD: Nona_LockCommunityDoor V6 | (mirror)